A
B
C
D
E
F
G
H
I
J
K
L
M
N
O
P
Q
R
S
T
U
V
W
X
Y
Z
P.O.BOX
_____________________________________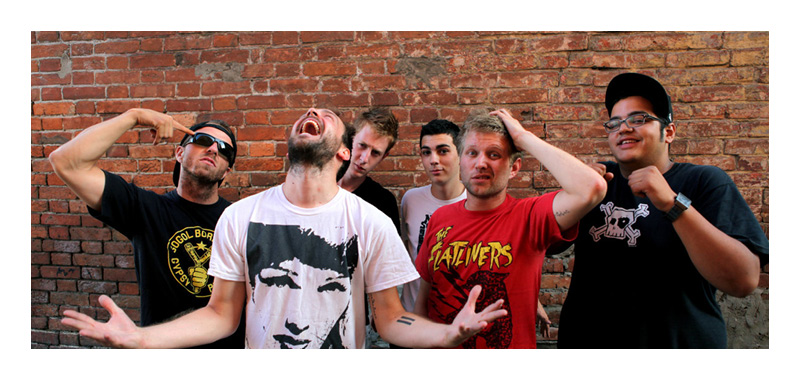 _____________________________________
facebook
BANDHYSTORY
"This band rocks and this band has a message!"
2001, Nancy, France: P.O.BOX plays its very first gigs in France. Since then, the band has been on intensive touring through Europe, Canada, Japan, increasing its reputation of having an "explosive stage performance".
After the release of a demo-cd ('Fartcore', 2001) and a splitcd ('We are all in the gutter but some of us are looking at the stars', 2002), the band signs on Winged Skull Records for the release of their first EP ('Rock my reality') in 2004.
Thousands and thousands of kilometers spent on European roads lead the band to record their debut-album ' ... And the Lipstick Traces' and to sign in April 2007 on Long Beach Records Europe (International), Übersee Records (Germany) and Guerilla Asso (France) who released this long-awaited full length in Europe, as well as on Unattractive Records in May 2007 who released it in Japan.
In 2009, P.O.BOX released its second full length, entitled "InBetweenTheLines", out on Long Beach Records Europe, Guerilla Asso, In Ya Face Japan. It contains 15 tracks of explosive punk/ska and features Chris Cresswell (from the Flatliners) and Vic Ruggiero (from the Slackers). The band toured all over the world again, from Canada to Japan, crossing Europe and Russia.
P.O.BOX celebrated its 10th anniversary and 500th show in 2011, as well as recorded a new 6-tracks EP which came out together with a 2-hour Tour Documentary DVD shot during their European tour in the summer 2009. The EP is mixed and mastered by Steve Rizun (DriveStudios, Toronto, Canada), and the package (CD + DVD) is entitled "Detour(s)". It was released as usual on Long Beach Records Europe, Guerilla Asso, In Ya Face Japan, and Bad Mood Records (Switzerland) in Fall 2011.
2014 saw the release of P.O.Box new record, entitled "F#RTH#R", containing 13 explosive punk/ska tracks. Out on Long Beach Records Europe and Guerrilla Asso, the record demonstrates how P.O.Box wanted to go "back to the basics", making a sincere and honest record, showing how much the guys love what they're doing.